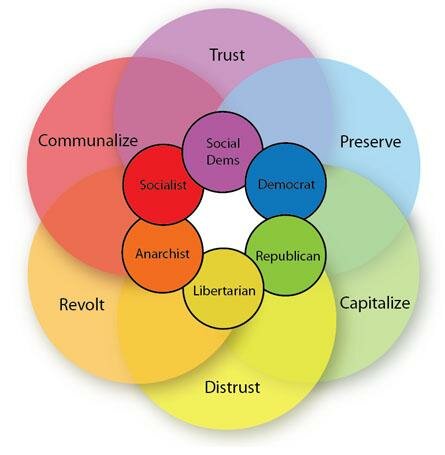 I had an idea recently about the relationship between different political parties so I charted it out see if visualizing it would help make sense of anything. I came up with this
Radial Scale of Political Convergence
. According to this chart each political faction has three motivating factors.
The factors are:
Trust: (Ideology - Altruism)
This is a belief that people are inherently compassionate. Withstanding any operating forces that may prevent them from helping each other, people will go out of their way to alleviate suffering experienced around them. Contributing to the common good is rewarding and people will extend themselves if they believe what they are doing is beneficial to the greater society.
Distrust: (Ideology - Egotism)
This derives from the fundamental belief that people are inherently selfish. Whenever possible people will opportunistically take advantage of each other, so they can't be relied on for support unless there are personal gains rewarded for their actions. Ultimately everyone is responsible for fulfilling only their own needs.
Capitalize: (Ideology - Laissez-faire)
A person's worth and subsequent wealth should be determined by their ability to secure resources for themselves according to the operating forces of the price system. Individual ownership of goods, services, property, and ideas is paramount. Any intervention to the free market is considered counterproductive and all earnings within the market are perceived to be deserved.
Communalize: (Ideology - Communism)
All societal resources should be commonly owned and the resulting production made available to everyone according to their needs. Efficiency and the true value of goods is maintained because outside of the profit motive there are few incentives for overproduction or inflation.
Preserve: (Ideology - Positive Liberty)
Belief that the current mode of government is effective when operated with sufficient competence. Through marginal reforms according to the prescribed democratic process, politicians are responsible for enacting legislation that strengthens the government while serving (placating) the needs of the people.
Revolt: (Ideology - Negative Liberty)
Whenever there are conditions that segregate, disenfranchise, or disproportionately empower people action must be taken to overthrow those systems. Any institutionalization of injustice is intolerable and will be absolutely opposed.