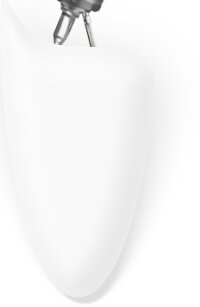 Enon




Country: Japan

Manufacturer: Fujitsu

Year: 2005

Height: 4'3in (130cm)

Weight: 110lbs (50kg)

Degrees of Freedom: 10

Enon is an advanced practical-use service robot that can assist in such tasks as providing guidance, escorting guests, transporting objects, and security patrolling. Fujitsu released the Enon humanoid robot for limited commercial distribution in September of 2005. It sold for about $50,000 US and was primarily used as a tour guide in museums across Japan. In 2006 an Enon robot was employed as a sales assistant at the Jusco department store in Oita City in Southern Japan, making it the first robot ever given that responsibility.
The Enon robot features autonomous navigation by referring to pre-programmed maps and wide-angle cameras on its head to perceive people or objects in its environment without a need for special markings on floors or walls. It is capable of carrying 22 pounds (10kg) of groceries of baggage in a storage compartment in its chest and an additional one pound (.5kg) with each arm.
For communication it has speech synthesis in Japanese and a touch panel LCD monitor on its chest enables the robot to communicate in a diverse range on situations. Its face has an assortment of LEDs and is capable of a variety of expressions. The robot is connected through wireless LAN to a server for additional information exchange.
Please Login or Register to post a comment