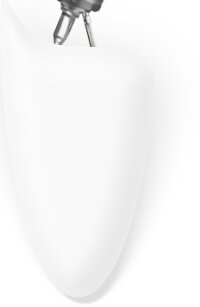 RoboSapien V2




Country: China

Manufacturer: Wow Wee Toys

Year: 2005

Height: 2'1in (63.5cm)

Weight: 6lbs (2.72kg)

RoboSapien V2 is a toy-like biomorphic robot designed by Mark Tilden, a former robotic physicist from the Los Alamos National Laboratory, and produced by Wow Wee toys. The RoboSapien V2 is preprogrammed with moves, and can operate autonomously or be controlled by an included infrared remote control, by a personal computer with the help of an infrared transmitter, or from an infrared equipped PDA.
The robot is capable of walking without the assistance of wheels on his feet, grasping objects with either hand and throwing them, and has several different caveman vocalizations. The remote control has 28 different buttons. With the help of the shift button, the user has access to 100 different commands that the robot can execute.
Because RoboSapien V2 was engineered using BEAM robotics and has no microprocessor, it is designed to be easily modified or hacked. The electronics inside are easily accessed and are clearly labeled. A growing community of hackers have devoted themselves to adding new functionality to the robot. Some hacks have added a live video camera; others an LED belt that displays text, headlights, speech synthesis and more.
Apart from the obvious external improvements over the original RoboSapien, RoboSapien V2 is also capable of:
It has better movement including the ability to sit down, stand up, Bow and even lie down.
The hands have been redesigned for greater dexterity.
It can pick up heavier objects than the original and can tell when it has successfully grabbed an object or not.
Robosapien V2 can recognize objects and skin tones. By recognizing skin tones the Robosapien V2 can tell when a human has placed it?s hand in front of its face instead of some other object.
If a laser is traced on the ground it can follow it.

RoboSapien V2 is capable of interacting with other Wow Wee Toys products such as the RoboRaptor and RoboPet robots.






Please or Register to post a comment